ZAMONAVIY GADJETLARNING TALABALARNING O'QUV JARAYONIGA SALBIY T A'SIRI
Ключевые слова:
kognitiv funktsiyalar, diqqatni jamlash, diqqatni barkarorligi, mobil texnologiya, xotira, diqqatni o'zgarishi, smartfon
Аннотация
Xozirgi kunda mobil qurilmalarining inson organizmiga zararli ta'siri ko'p muxokama
qilinmoqda. Multimediyali texnologiyalar ommaviylashgan davrda, smartfonlarni inson aqliy kobiliyatiga, xotirasi va kognitiv funktsiyalariga ta'sirini o'rganish muxim mavzulardan
hisoblanadi. Maqolada mobil telefonlarni (ayniqsa smartfonlarni) insonning ruxiy xolatigata'siri o'rganilgan bir qancha bosho'a xorijiy maqolalar natijalari xam keltirilgan. Bundantashqari tadqiqot mobaynida talabalarning diqqatiga, xotirasiga smartfonlarni ta'siri natijalari keltirilgan. Tadqiqot bir qancha bosqichlarda o'tkazildi: so'rovnoma yordamida talabalarning o'zlarini gadjetlariga qanchalik bog'langanliklari aniqlandi. Ikki bosqichli tajriba jarayonidatalabalarning ta'lim olish sifatiga, diqqatni jamlashiga, xotirasiga smartfonlarning ta'siri o'rganildi.
Библиографические ссылки
Beland L.-P., Murphy R. Ill communication: technology, distraction and
student performance // CEP Discussion
Paper. 2015. No 1350. URL:
Volume 2, Issue 1, 2023
medunion medunion.uz
Литература / References
http://cep.lse.ac.uk/pubs/download/ dp1350.pdf (15.05.2018).
Billieux J. Problematic use of mobile phone: a literature review and a pathways model // Curr. Psychiatr. Rev. 2014. No 8 (4). P. 299−307.
Butts S., Phillips J. G. Personality and self-reported mobile phone use // Computers in Human Behavior. 2008. No 24. P. 346−360.
Пулатов Б., Алиева Н., Дадабаева М. Современные методы мониторинга
Предиктор Сердечно-Сосудистого Риск //Central asian journal of medical and natural sciences. – 2022. – Т. 3. – No. 2. – С. 193-196.
Barnoyev Xabib Bobomurodovich, Shukurova Lobar Xusanovna, Xusanxodjaeva Feruza Tulkunovna Surunkali buyrak kasalligining ii-iii bosqichida antiagregant terapiya fonida buyrak funksional zaxirasini baholash // orienss. 2021. No3. URL: https://cyberleninka.ru/article/n/surunkali
остеоинтеграции //Медицина и инновации. – 2021. – Т. 1. – No. 1. – С. 45- 49.
Хусанходжаева Ф. Т. и др. новый подход к лечению инфекций мочевых путей у болных сахарным диабетом 2 типа путем добавления витамина д //Uzbek Scholar Journal. – 2022. – Т. 10. – С. 407-417.
De-Sola Gutiérrez J., Rodríguez de Fonseca F., Rubio G. Cell-Phone Addiction: A Review // Frontiers in Psychiatry. 2016/ No 7. P . 175. URL: http://doi.org/10.3389/fpsyt.2016.00175
Ehrenberg A. S., Juckes K. M., White and S. P. Walsh. Personality and self-esteem as predictors of young people's technology use // Cyberpsychology and Behavior. 2008. No 11 (6). P. 739−741.
Erkinovna S. F. et al. Structural and functional features of the myocardium against the background of renal replacement therapy //International Journal
buyrak-kasalligining-ii-iii-bosqichida- antiagregant-terapiya-fonida-buyrak- funksional-zaxirasini-baholash
Khabilov N. L. et al. The Role of Biomimetic Incubation of Sandblasted Titanium Implants in the Process of Osseointegration: An Experimental Study in Dogs //International Journal of Biomedicine. – 2015. – Т. 5. – No. 1. – С. 38-40.
Levine, L. E., Waite, B. M., Bowman, L. L. Electronic media use, reading, and academic distractibility in college youth // CyberPsychology & Behavior. – 2007. – V. 10, No. 4 [электрон манба]. – https://www.liebertpub.com/doi/10.1089/cp b.2007.9990 (04.03.2020).
Mun T. O. et al. Experience of Experimental Application of Rational Design of Domestic Dental Implant //Central asian journal of medical and natural sciences. – 2021. – Т. 2. – No. 5. – С. 5-11.
Stothart, C., Mitchum, A., Yehnert,
of Medical Sciences And Clinical Research. – 2022. – Т. 2. – No. 11. – С. 01-07.
Бобокулов М. Б. морфофункционалного
трансплантанта в
трансплантации почки //Uzbek Scholar Journal. – 2022. – Т. 10. – С. 418-427
Сабиров М. А., и др. нарушение сердечного ритма У болных с хронической Болезн Почек Vст Как
и др. Оценка состояния период после
C. The attentional cost of receiving a cell phone notification // Journal of Experimental Psychology: Human Perception and Performance. – 2015. – No. 41 (4). – Pp. 893-897.
Wilmer, H. H., Sherman, L. E., Chein J. M. Smartphones and cognition: a review of research exploring the links between mobile technology habits and cognitive functioning // Frontiers in
Volume 2, Issue 1, 2023
medunion medunion.uz
Psychology. – 2017. – No. 8 [электрон манба]. – https://www.ncbi.nlm.nih.gov/pmc/articles/ PMC5403814/
Lepp A., Barkley J. E., Karpinski A. C. The relationship between cell phone use and academic performance in a sample of U. S. college students // SAGE Open. 2015. No 1–9. DOI: 10.1177/2158244015573169 (дата обращения 15.05.2018).
Daminova K.M., Sabirov M.A. A
modern view to optimizing diagnostics of chronic kidney disease // Журнал «Новый День в Медицине» -Avicenna-MED.UZ.- Бухара, Узбекистан - 2021 январь-март - No1(33)- С.158-162 https://www.elibrary.ru/item.asp?id=46298 777
Tashpulatova M. X., Isirgapova S. N., Дастурли гемодиализдаги
Volume 2, Issue 1, 2023
беморларда қон реологиясининг ҳолати ва гемостаз тизими бузилишларининг клиник-патогенетик жиҳатлари
https://newdaymedicine.com/index.php/c ategory., /2022-ndm/page/53/
Sobirov M. A., Sultonov N. N.,
T ashpulatova M.
Современный
антиагрегантному
хронической https://newdaymedicine.com/index.php/202
X.,
Isirgapova
S. N.
/12/02/25-6-38-2021-m-a-sabirov-n-n- sultonov-a-modern-approach-to-anti- aggregate-treatment-for-chronic-kidney- disease/
подход
к при почек
лечению болезни
Иргапова С. Н., Собиров М. А. Современный подход к антиагрегантному лечению при хронической болезни почек.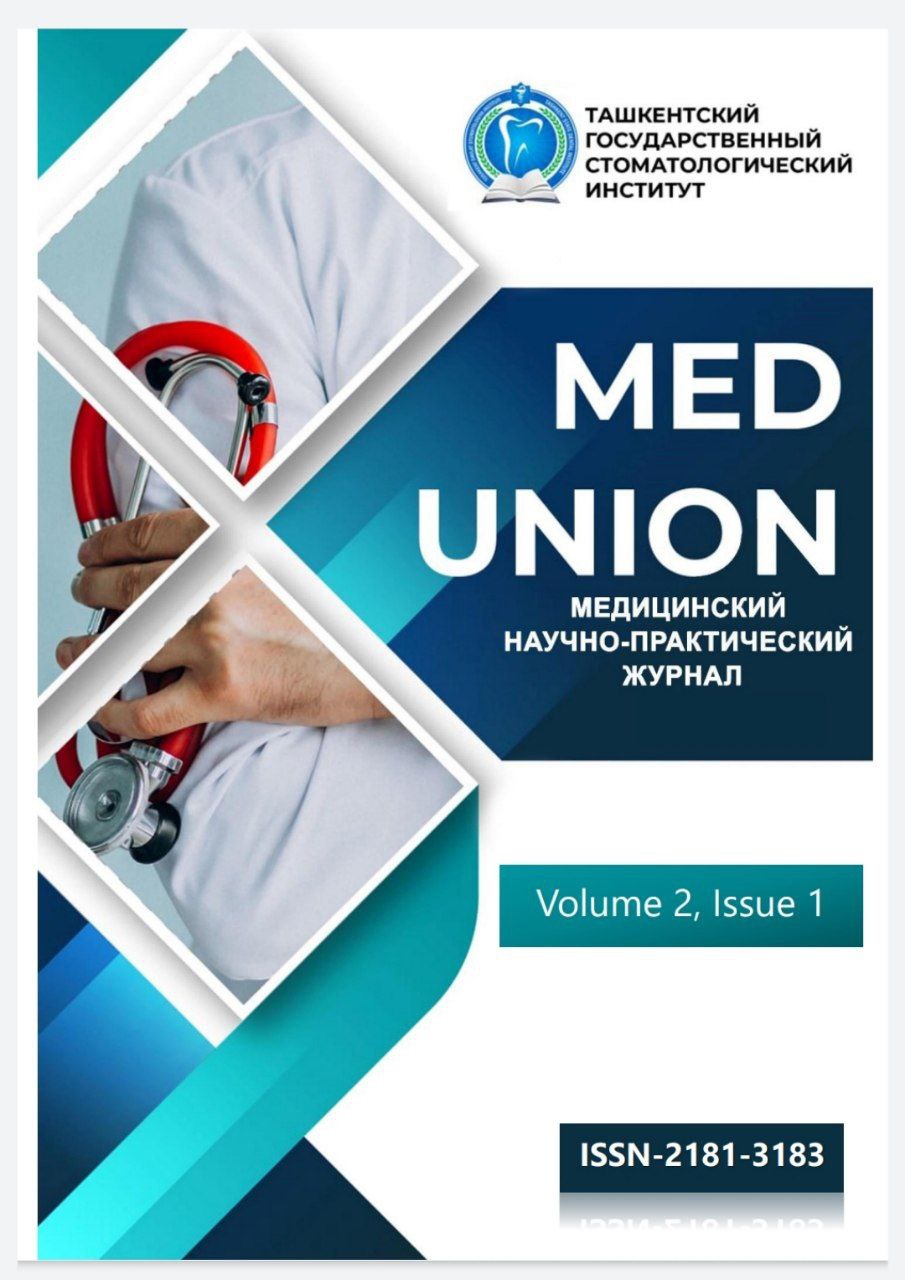 Загрузки