SPLEEN INJURIES DURING BLUNT TRAUMA OF THE ABDOMINAL
Ключевые слова:
тўмтоқ травма, талоқ, жарохатлар
Аннотация
Тирик одамларда қорин бўшлиғининг тўмтоқ шикастланишида талоқнинг
шикастланиши табиати тўмтоқ қаттиқ жисмларнинг шикаст юзасига боғлиқ, шунинг учун чекланган сирт билан шикастланишдан кўра чексиз сирт билан шикастланиш билан янада жиддий шикастланиш кузатилади. Улар тўмтоқ нарса билан бевосита алоқа қилиш жойида ҳам, масофада ҳам ҳосил бўлади.
Библиографические ссылки
.Yakovenko O. O. et al. Forensic diagnostics and assessment of blunt abdominal trauma with spleen injury // Achievements of Russian forensic science of the XX–XXI centuries: on the 100th anniversary of the formation of modern forensic schools. - 2019. - S. 216-219.
Gorshkova A. A. et al. The complexity of forensic medical examination in combination of injury and pathology of the spleen //FORCIPE. - 2022. - V. 5. - No. S3. - S. 605-606.
Alexandrov N. G. et al. On the mechanism of action of triterpene glycosides // Sat.
Khvan O.I. Injuries to the organs of the abdominal cavity and kidneys in blunt trauma // Doctor-graduate student. - 2012. - v. 50. - No. 1.3. - S. 461 - -465.
Pinchuk P. V., Leonov S. V., Levandrovskaya I. A. Forensic medical diagnosis of the direction of traumatic impact in blunt trauma of the spleen // Military Medical Journal. - 2020. - T. 341. - No. 1. - S. 30-33.
scientific tr . " Resp . scientific and practical . conf . p athologists of Uzbekistan. Tashkent. - 1995. - S. 69-70.
Khvan OI, Don AN About closed liver injury in automobile traumas with lethal outcome. - International Scientific Journal "Education News: Research in the Twenty- First Century " education : research in the XXI century /. – 2023. - No. 6 (100), Part 1. - P . 236-241.
Volume 2, Issue 1, 2023
medunion medunion.uz
Литература / References
Don AN, Nagai SG Comparative assessment of the effect of dipsacoside and ladyginoside on the morphofunctional state of the thyroid gland // Journal "Medicine and Innovations", 2022, no. 3, pp. 427-441. 8.Khvan O. I., Abdukarimov B. A. Characteristics of injuries of the abdominal organs and retroperitoneal space // XVIII International Conference on Science and Technology Russia-Korea-CIS. - 2018. - S. 153-160.
Kovalev A. V., Zabrodsky Ya. D. The role of analysis and regulatory legal regulation of forensic medical expert activities in the prevention of transport injuries (on the example of a fatal car injury) //Medical Bulletin. - 2022. - T. 117. - No. 2. - S. 73-76.
Levandrovskaya I. A., Karandashev A. A. Morphological assessment of splenic rupture to determine the number of traumatic effects (case report) // Selected issues of forensic medical examination. - 2019. - S. 117-120.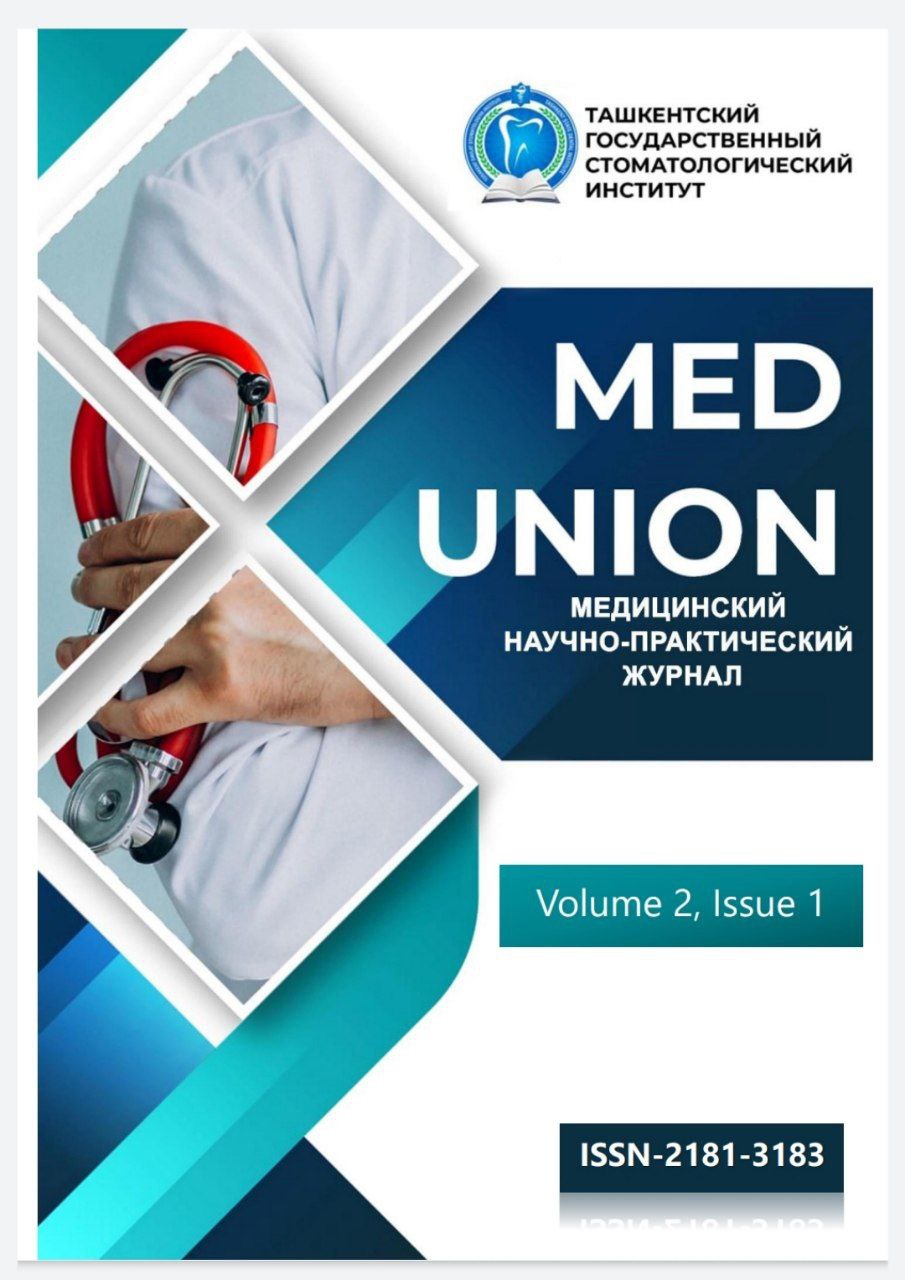 Загрузки